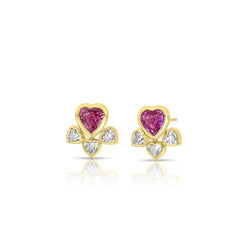 Many Hearts
Many Hearts stud earrings, 18k gold bezel set pink sapphires and diamonds. 
Contact us at Hello@FutureFortuneJewelry.com for any customized request.   
Each design is made to order.  Delivery is estimated at 4-6 weeks from when order is placed.
Socially and environmentally responsible by using conflict free diamonds and gemstones.
Providing our clients with the highest quality by using fine craftsmanship.
We emphasize on providing the best customer service by always exceeding the expectation of our customers.
We encourage happiness, confidence, and positivity by creating a healthy atmosphere.